Los Angeles Work Harassment Attorney Quick Links
Are You Suffering From Workplace Harassment?
When people come to work, they expect a workplace free from harassment. Unfortunately, this is not always the case. Harassment is unwelcome behavior based on an individual's protected characteristics. The California Fair Employment and Housing Act (FEHA) identifies these protected characteristics. They include sex, disability, race and more. Below, our work harassment lawyers in Los Angeles explain what you should know about workplace harassment.
Are you experiencing workplace harassment? Has the behavior unreasonably interfered with your work performance? Has it created an intimidating, hostile or offensive working environment? Consider talking with a Los Angeles workplace harassment attorney with our firm. During a free evaluation, we will answer your questions. We can also help you to understand your legal options. Call us at (310) 499-0140 or contact us online to schedule your consultation.
Case Results
Sexual Harassment
$770,000
We negotiated a pre-lawsuit settlement of $770,000 on behalf of two individuals who had been sexually harassed by their supervisor at a religious institution.
Disability Discrimination
$575,000
We filed a lawsuit against a large package delivery company after it fired an employee because it claimed that the employee's disability could not be accommodated. We negotiated a settlement of $575,000 on behalf of the employee.
Age Discrimination
$350,000
We filed a claim on behalf of a client who was terminated from a hospital after his supervisor made critical comments about his age. We negotiated a settlement of $350,000 on behalf of our client.
What Is Workplace Harassment?
Title VII of the Civil Rights Act of 1964 prohibits discrimination against applicants and employees based on certain protected characteristics or categories, and in 1980, the federal agency that enforces Title VII, the Equal Employment Opportunity Commission (EEOC), issued regulations defining harassment as a form of discrimination. Since then, harassment has been interpreted to encompass all forms of discrimination prohibited by Title VII, the Americans with Disabilities Act, and the Age Discrimination in Employment Act.
Workplace harassment in California is defined as unwelcome verbal or physical conduct based on one of the following protected categories:
Race

Color

Religion

Sex/gender

Sexual orientation

Marital status

Medical Condition

National origin

Disability

Request for family care leave

Request for leave for an employee's own serious health condition

Request for Pregnancy Disability Leave

Retaliation for reporting patient abuse in tax-supported institutions

Age (over 40)
This unwelcome harassment can change the conditions of the victim's employment in two ways:
By being so objectively offensive, intimidating, hostile, or abusive that it effectively changes the terms and conditions of the workplace; or

By culminating in an employment action such as termination or demotion
Any behavior meeting these criteria is unlawful under state and federal laws.
Unlawful vs. Unprofessional Conduct
Not all unwelcome verbal and physical conduct in the workplace is unlawful. To understand what constitutes unlawful workplace harassment, it is helpful to understand the difference between unprofessional conduct and unlawful conduct.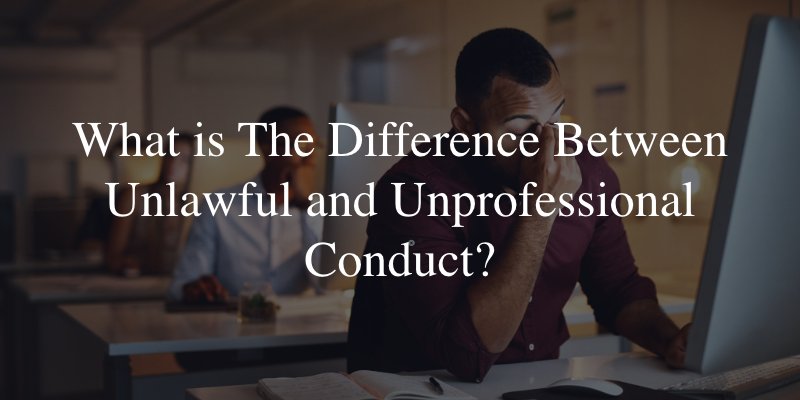 Unprofessional conduct refers to behavior that violates a company's policies. In contrast, unlawful conduct refers to behavior that violates federal, state, or local laws.
Federal and state legislators have determined that individuals in the protected categories listed above should be given special protection under the law because disrespectful or harassing behavior towards others based on these categories may create an uncomfortable and hostile work environment. These protected categories are the foundation of harassment and discrimination laws.
The conduct of an employer or co-worker is unlawful whenever:
A person finds it offensive or otherwise unwelcomed; and

It is based on a protected category; and

It is so frequent or severe that it creates a hostile or offensive work environment or results in an adverse employment decision, such as termination, suspension, or demotion.
At YMS, we often receive calls from potential clients who have been wronged at work and want to know their legal rights. Through our intake process, we determine if what happened to them was just wrong or if it rose to the level of being unlawful.
Types of Workplace Harassment Cases We Handle
We represent individuals suffering from many types of workplace harassment, including:
You can also learn more about the other types of employment litigation cases we handle here.
What Are Common Examples of Workplace Harassment?
There are various types of workplace harassment. Common examples of workplace harassment include, but are not limited to:
Sexual harassment, including quid pro quo harassment and hostile work environment harassment

Insults and/or ridicule

Harassing text messages or emails

Insensitive jokes, comments, slurs and/or other behaviors

Intolerance

Exclusion

Physical threats or attacks

Intimidation

Psychological harassment
The Importance of Reporting Harassment
One issue we run into frequently is people who have valid claims that we can't pursue because they never reported them. Many of us were taught as children not to be a tattletale, and we carry that into our adult lives.
But, choosing not to report unfair or illegal conduct by your employer or a co-worker can be detrimental to any future harassment claim you might have. If you have been harassed or treated differently at work because of your race, color, religion, national origin, sex, gender, age, or disability but don't report it, your employer can get away with it.
Most companies have specific policies and procedures for reporting harassment so that the right people get involved. If you believe you are being harassed at work, you must find the appropriate method for reporting it and make a report.
If the report must be made verbally, be sure to document the details of the report you made and, if possible, send a follow-up email documenting the discussion. The better the paper trail you create, the stronger your claim will generally be.
Your employer is only responsible for the conduct they know about. Once you have reported harassment, your employer's obligation to take appropriate action begins. If your employer fails to investigate or take action, allowing the conduct to continue or worsen, you may have a cause of action against them.
How Do I File a Workplace Harassment Claim in California?
First, you should notify your employer about the harassing behavior. Follow any protocols established by your employer. Your employee handbook may outline these protocols. California law requires that your employer has an anti-harassment policy. This policy specifies where to make your harassment complaint. In most cases, you will report it to your supervisor or HR department.
It is important to give your employer a chance to respond to your complaint. If your employer fails to stop the harassment, then you may have more claims against the company. This claim would be for failure to prevent harassment in the workplace. And, if your employer treats you worse for reporting the harassment, then you may have a workplace retaliation claim.
A Los Angeles work harassment lawyer can help you to understand your legal rights. We may advise you to file a complaint with the Department of Fair Employment and Housing (DFEH). You may also have the option to get a right-to-sue letter. This would allow you to sue your employer rather than wait for the DFEH investigation. Your lawyer can guide you through the process to help you get the best possible outcome for your claim.
Can I Get in Trouble for Reporting Harassment?
No, you cannot get into trouble for reporting workplace harassment. Workplace harassment is illegal. Your employer cannot retaliate against you for reporting it. However, many employers may do so anyway. For example, your employer may choose to deny you a promotion due to your complaint. If this happens to you, then you should consider taking legal action. Your attorney can look for evidence that proves your employer engaged in workplace retaliation due to your complaint.
Retaliation can include any adverse employment action, including denial of a promotion, denial of job benefits, demotion, suspension, and termination. Depending on the severity, retaliation may also include work-related threats, warnings, reprimands, poor work evaluations, transfers to less prestigious or desirable work, and other adverse employment actions.
State and federal laws protect employees who report or file complaints about harassment from retaliation by their employer. The very purpose of these laws is to make sure employees feel safe reporting harassment. If you have faced harassment in the workplace, the workplace harassment lawyers at YMS are eager to help you navigate the appropriate legal claims.
Los Angeles Workplace Harassment FAQs
How Long Do I Have to File a Workplace Harassment Claim in California?
In California, you're allowed 3 years from the date of the final harassment incident to submit a workplace harassment claim under FEHA. If you file a complaint with DFEH during this period, they'll conduct an inquiry. If probable cause is established, mediation or a right-to-sue notice may follow. If the 3-year timeframe expires, you can still file if you can provide a valid reason. Be aware that for particular cases like sexual harassment, the statute of limitations is 1 year from the last incident.
Can I Pursue a Workplace Harassment Claim if I've Left the Company?
Yes, you can pursue a workplace harassment claim after leaving the company in California. FEHA, which prohibits workplace harassment, applies regardless of your employment status.
To file a claim, start by lodging a complaint with the California Department of Fair Employment and Housing (DFEH). If probable cause is found, mediation or a right-to-sue notice follows. You can also file a lawsuit within three years of the last incident.
Note that you can also approach the Equal Employment Opportunity Commission (EEOC) within 180 days of the last incident under federal law.
What Damages Can I Recover?
In a workplace harassment claim in Los Angeles, you have the potential to recover various damages, including:
Compensatory damages: To cover lost wages, medical expenses, and emotional distress.
Punitive damages: If the harassment was exceptionally severe, these aim to penalize the employer.
Injunctive relief: Orders to halt harassment, transfer positions, or terminate the harasser.
Restitution: Reimbursement for lost wages, medical costs, and counseling.
The extent of damages depends on your case specifics. It's worth noting that you might recover damages under federal law as well. The EEOC enforces Title VII of the Civil Rights Act of 1964, offering similar recovery avenues.If you face workplace harassment, document incidents, report to superiors or HR promptly, and consult an attorney to explore your rights and potential actions.
Why Hire A Lawyer?
If you have experienced any form of harassment in the workplace, you need to take action right away. Wait too long, and you may be barred from fully asserting your rights under the law and obtaining compensation for your damages.
Under state law, you must file a complaint with the California Civil Rights Department (CRD), within three years of the date of the alleged violation, and then you only have one year to file a lawsuit in civil court. There are exceptions to these statutes of limitations, and if you wish to file a claim under federal law, you may be subject to completely different deadlines.
Furthermore, there are strict guidelines in place for filing a complaint. So, you must have your case evaluated promptly by an experienced Los Angeles workplace harassment lawyer who can assess your situation and offer you a path forward.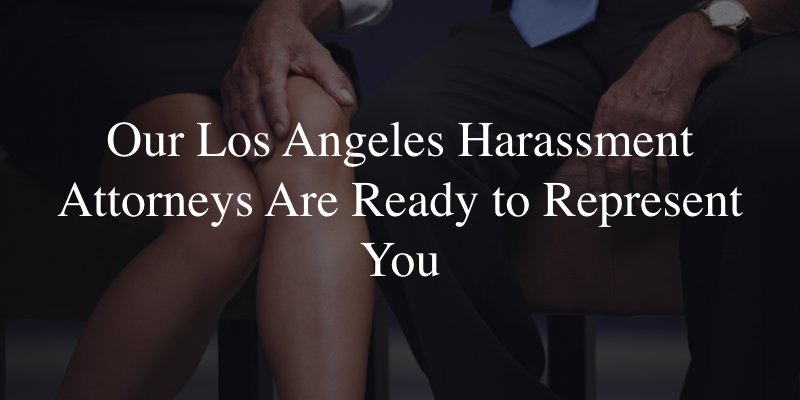 Our workplace harassment lawyers can help you understand your legal options and file a claim or lawsuit before the applicable statute of limitations expires. We will manage the case on your behalf, from beginning to end, to ensure it is resolved efficiently, expeditiously, and with the best outcome possible.
Client Testimonials
"I would recommend them to anyone seeking not just representation, but a team that will truly fight for your rights and guide you every step of the way. This is a law firm that raises the bar for what it means to provide exceptional legal service."
-Nick T.
"I cannot say enough about Navid Yadegar! Over the years we have worked with him many times and each time he has exceeded our expectations. He genuinely cares about his clients and his knowledge in his field is unmatched. Having him as your attorney is having peace of mind that you have the best! Thank you Navid!"
"Amazing firm that is robust and fair.  Have helped me numerous times with employment matters as well as contractual concerns.  All attorneys are ethical and easy to work with and always have my best interest in mind.  Highly recommend."
-Dan B.
Areas Our Los Angeles Harassment Attorneys Serve
We proudly serve the following neighborhoods in LA County:
Downtown Los Angeles | Hollywood | West Hollywood | Beverly Hills | Santa Monica | Venice | Malibu | Pasadena | Long Beach | Glendale | Burbank | Culver City | Westwood | Silver Lake | Echo Park | Koreatown | San Pedro | West Los Angeles | Boyle Heights | Eagle Rock | Sherman Oaks | North Hollywood | Encino | Studio City | Bel Air | Pacific Palisades | West Los Angeles | Highland Park | Manhattan Beach
Contact Our Work Harassment Lawyers in Los Angeles Today
The law entitles you to work in an environment that is free from harassment. Our Los Angeles job harassment lawyers can help you review your legal options. We can determine if you have a viable claim. Additionally, we can answer any employment law questions that you may have.
At YMS, we represent individuals in many types of cases. We handle workplace discrimination, harassment or retaliation cases in the Los Angeles area. For a free case evaluation, contact us today at (310) 499-0140. You can also fill out our online contact form. Reach out to us today.